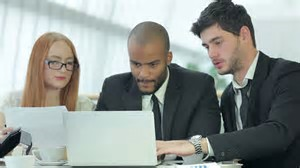 Top Three Reasons to Join a Professional Organization
We all know the phrase "It's about who you know and who knows you," but how do you get to know people? Especially people who can help you learn new skills and even advance in your career? Joining a professional organization and taking full advantage of the opportunities it offers can afford you some great results. It's more than a membership fee and a note on your resume. We've expanded upon the top three reasons you should invest in your future and join a professional organization.
    1. Building Your Professional Network
The connections that you make in professional organizations are invaluable, because they are created around a mutual passion or interest. A variety of individuals belong to these groups, from students to tenured professionals; each person offers a great opportunity to make a genuine connection that can form a professional relationship with mutual benefits. It's a good idea to connect with anyone you can, because in making a connection with one person, you are expanding your network to include theirs. Play your cards right, and they may call you when an amazing opportunity comes up with one of their connections that they think you'd be a perfect fit for.
  2. Keeping Current
The events offered by professional organizations are great opportunities to meet new people and learn something new. The knowledge presented in the event itself is often cutting-edge, presented by experts in the topic of discussion. But there is a wealth of information available through the other attendees, too. Often, they have the inside scoop on local economic development and company and industry news. This is an excellent way to learn about emerging news and ideas. You can learn a lot from both the people sitting beside you and the people presenting!
     3. Exploring Career Opportunities
Outside of events and social gatherings, professional organizations often offer access to databases of contacts, articles, and other information to help you become a better professional. These resources can be especially useful if you need advice on a certain subject, but they can also help you to explore career opportunities. The organization's company sponsors almost always attend events and are seeking talent involved in the local community. Companies want to hire individuals who take their career seriously and seek opportunity to advance in it.
If you are worried about the dues and fees that come with these professional organizations, ask your company if they have a professional development fund with which they could sponsor you. Or, if you are a student, many organizations have student rates that are substantially less. No matter your age or career path, a professional organization can help you succeed and make some great connections along the way. Remember, you get out what you put in; so get involved, learn something new, and take a step towards enhancing your career.
https://www.neoibn.org/wp-content/uploads/article-pic.png
168
300
Intern
/wp-content/uploads/2011/03/logo_ibn1.gif
Intern
2017-06-05 11:54:58
2017-09-20 12:55:57
Top Three Reasons to Join a Professional Organization